어드밴텍 X NRCERM, 수술실 워크플로우를 간소화하는 의료용 워크스테이션 솔루션 개발
2020-06-01
In today's high-tech operating room environment, the need to integrate and digitalize workflows is growing as increasingly innovative operating techniques and complex instrument systems are deployed. One of the most important functionalities is networking all operating room equipment to increase the efficiency and care provided by surgeons and operating room (OR) personnel. Established in 1991 as part of EMERCOM of Russia, the Nikiforov Russian Center for Emergency and Radiation Medicine (NRCERM) located in St. Petersburg is a leading provider of advanced healthcare treatments and quality medical care in the region. The hospital boasts state-of-the-art facilities, including 14 operating rooms and 560 patient beds, with approximately 15,000 patients treated annually. NRCERM Hospital is committed to delivering vital medical and surgical services and observing the highest standards of patient care.
At NRCERM, the management of medical care quality and maintenance of electronic medical records are facilitated by the comprehensive hospital information system (HIS). In 2017, NRCERM was successfully validated at Stage 6 of the international HIMSS Analytics Electronic Medical Record Adoption Model (EMRAM) standards. To continue providing the highest level of medical treatment and patient care, the hospital wanted to upgrade its 14 operating rooms with the addition of two extra computers. One of these computers was required to function as an automated workstation for anesthesiology and patient monitoring. The same computer would also be used for recording, counting and automatically recording the medical instruments, medications, materials, and supplies used during surgery in order to automate the documentation of surgery protocols.
Meanwhile, the other computer would be used for instant access to patient medical records, including medical imaging results (X-ray, computed tomography, magnetic resonance imaging, etc.) Additionally, because these two computers would be used in operating rooms, they needed to be certified to medical safety standards and easy to clean to ensure hygiene and infection control.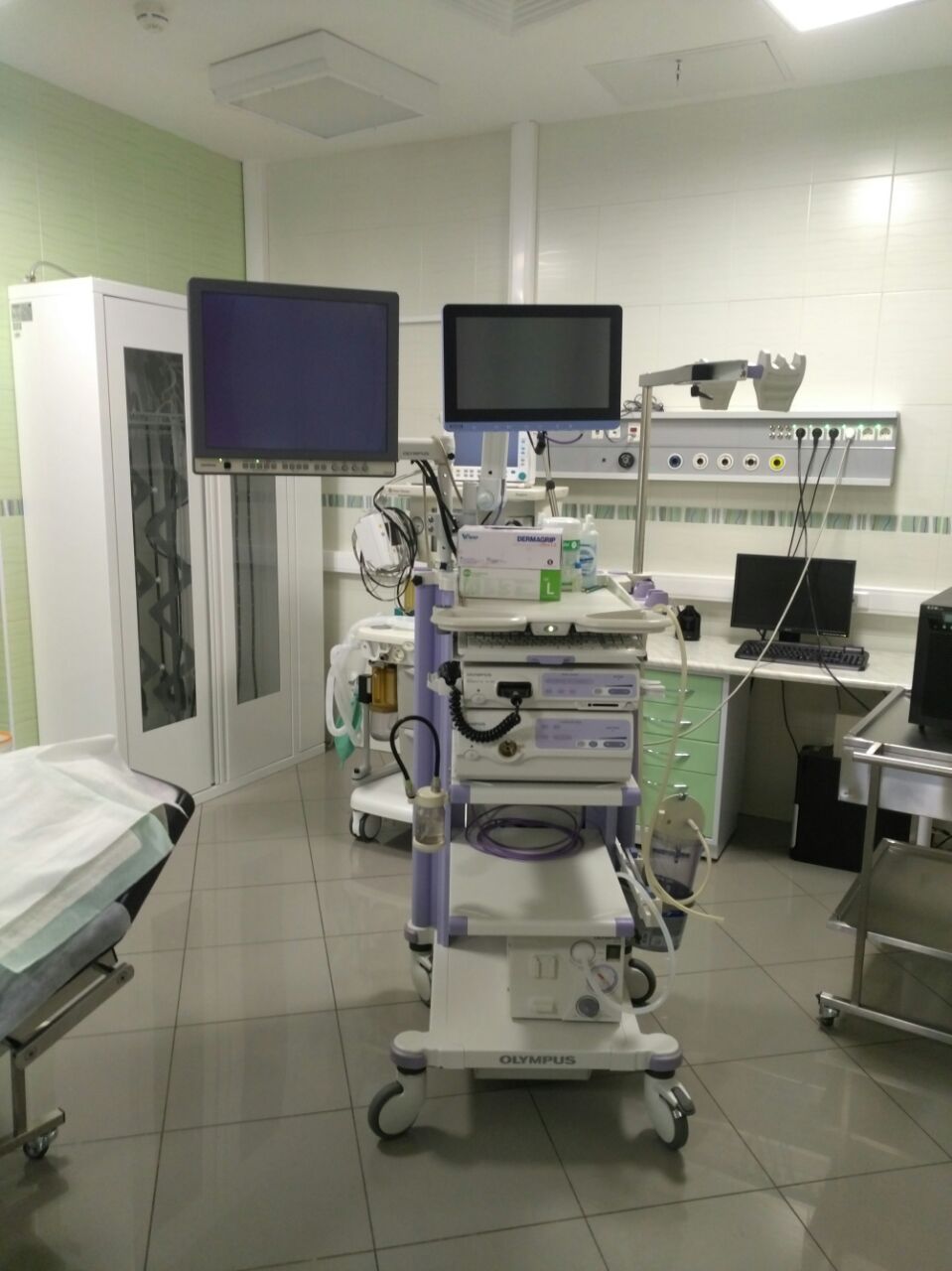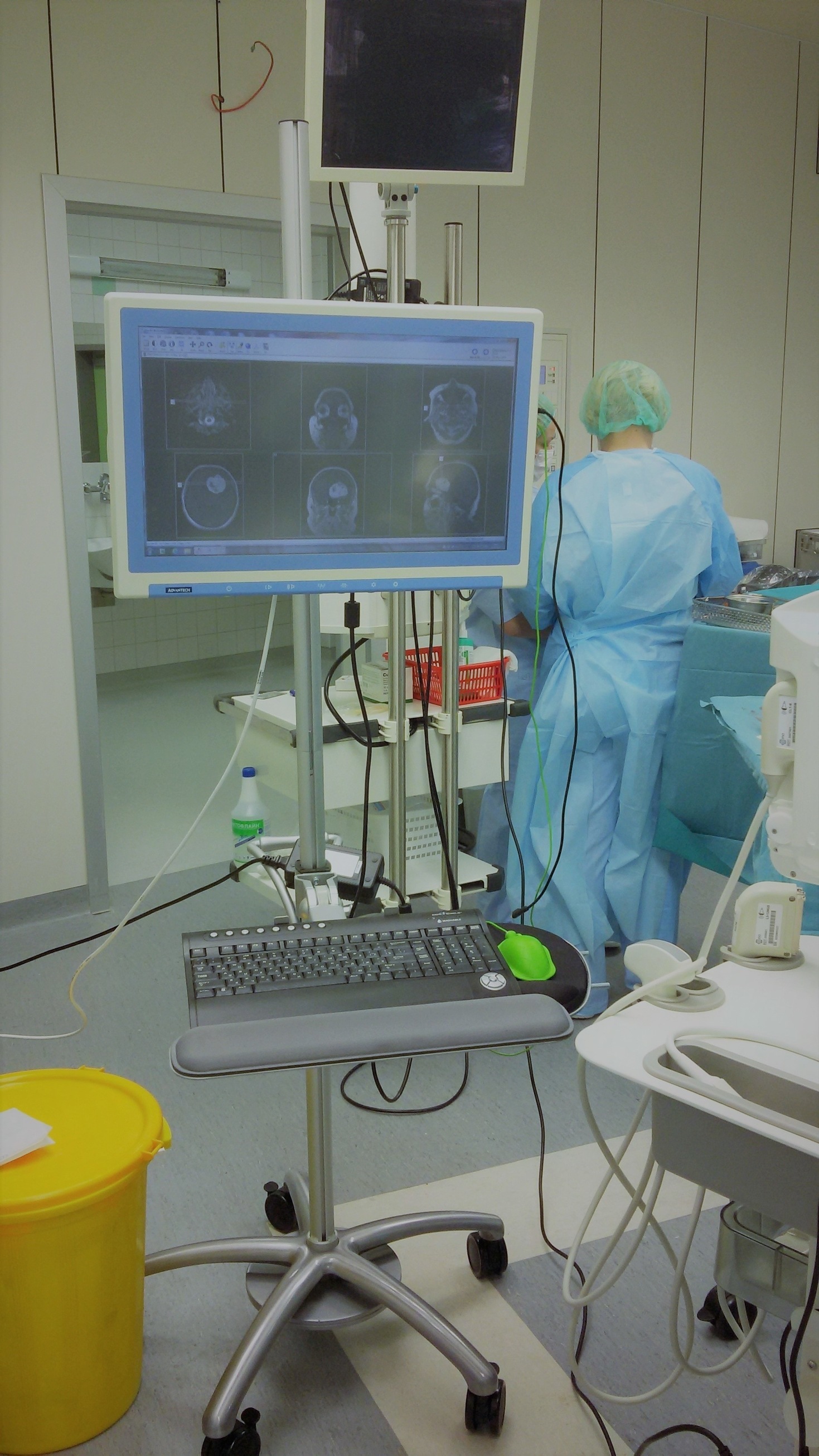 Based on recommendations by Mobile Computer Systems (MCS), one of Advantech's corporate partners, NRCERM chose Advantech (which it has maintained a successful partnership with since 1994) to collaborate on the development of a medical workstation solution for OR installation. The resulting solution comprised Advantech's AMiS-60 medical cart and POC-W212 point-of-care terminal combined with a POC-W151 DICOM converter.

Advantech's POC series terminals are high-performance medical-grade devices that can be equipped with Intel® Core™ i processors and support multiple displays for complex imaging-related healthcare applications. The lightweight and slim system design enables POC terminals to be flexibly mounted in diverse locations to serve as OR dashboards, equipment control panels, and intensive care unit (ICU) information displays, providing critical data to medical staff to assist with life-saving decision making.
To reduce the organizational and administrative burdens associated with OR management, the medical workstation solution was designed for rapid installation and seamless integration with existing HISs, OR planning systems, and patient medical records. Because all connected devices can be accessed using the system interface, medical staff can access diagnostic imaging results, patient medical records, and procedural documents using the POC-W212 terminal. In addition to serving as a control interface, the POC-W211 can be used as an information display platform.
To support the high-resolution imaging requirements of critical care applications, the POC-W212 terminal displays features in-plane switching (IPS) technology to provide superior color presentation, increased responsiveness, and a wider viewing angle without image distortion. The inclusion of optional DICOM presets creates a display compensation curve that makes it easier for the human eye to perceive different brightness levels, resulting in images that appear sharper and more detailed. Built-in expansion ports allow POC terminals to be integrated with diverse peripherals, such as a camera, smart card reader, or RFID/Wi-Fi/Bluetooth modules, to expand the system functionalities according to specific application requirements. Moreover, the terminals are installed with Intel® Active Management Technology (AMT), which enables remote management and reduces maintenance costs.
Designed to meet strict safety and reliability regulations, POC terminals are compliant with UL60601-1, IEC 60601-1/60601-2, and EN 60601-1 certifications and feature medical-grade equipotential bonding and isolated COM/LAN ports to reduce the risk of current leakages and electric shock. Furthermore, POC terminals are 1P54 rated for protection against water and dust ingress and easy cleaning to ensure that the highest levels of hygiene and infection control are maintained.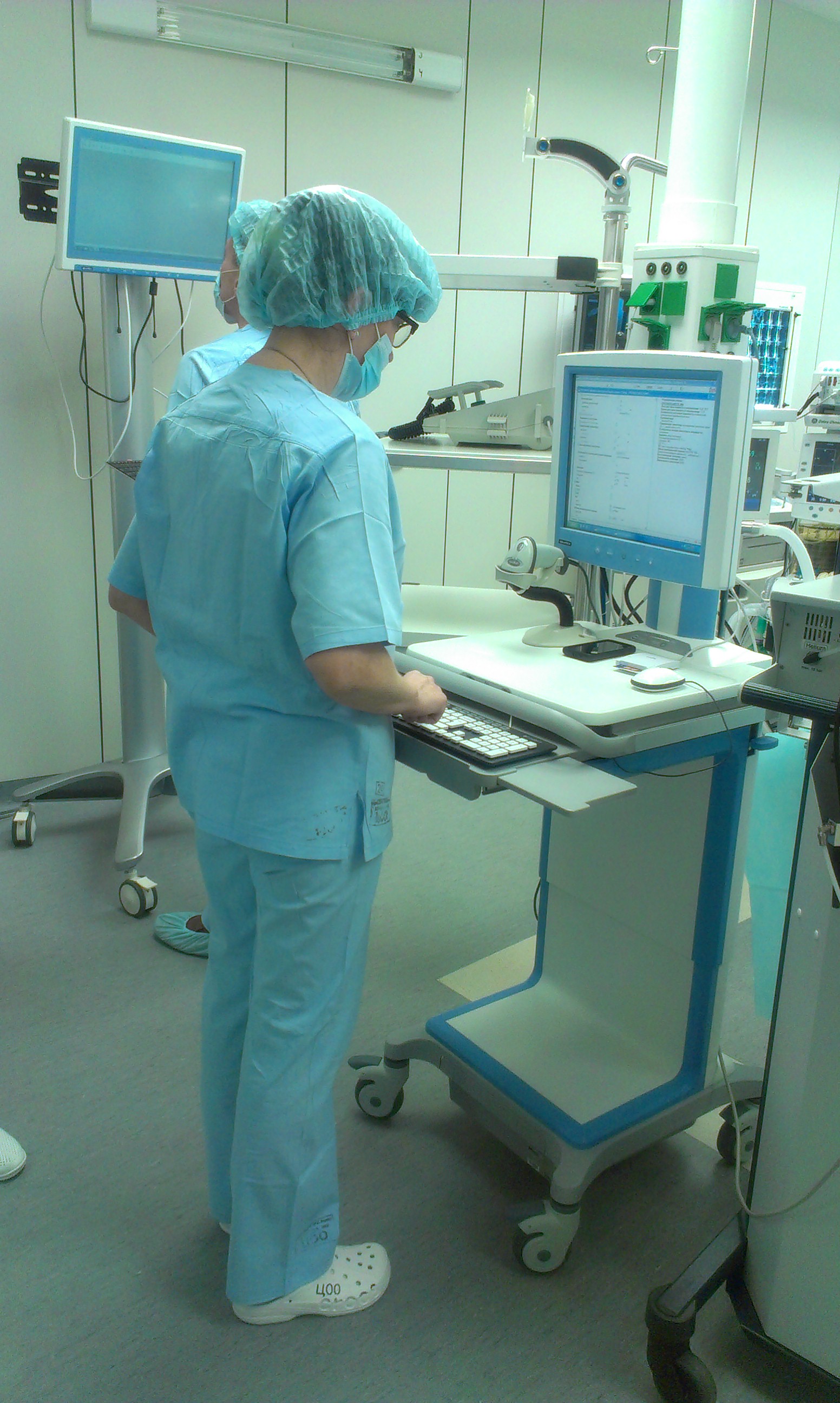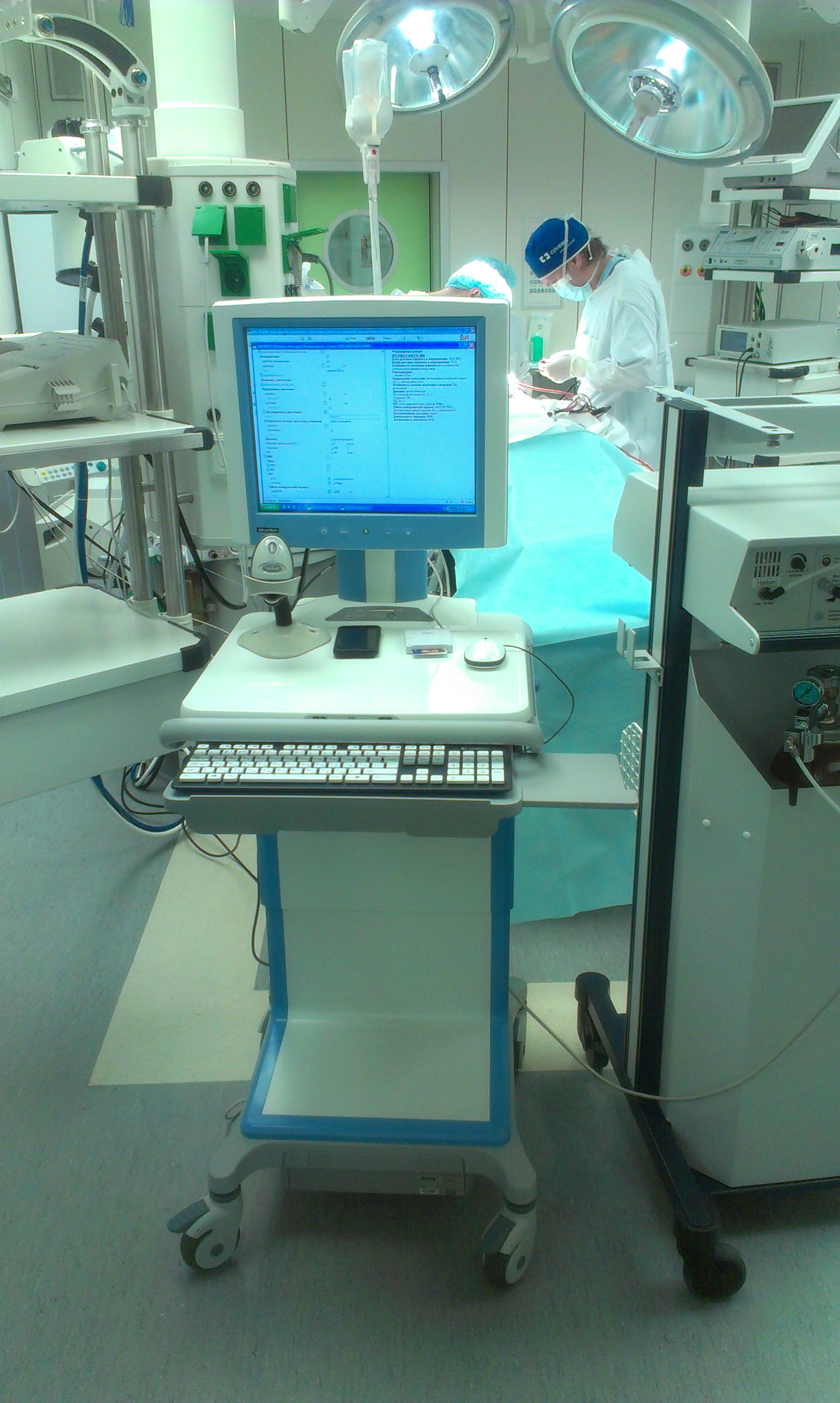 In today's healthcare environment, mobile workspaces are essential for providing both clinicians and patients with full access to data, services, and applications across locations to achieve truly seamless care provision. To provide instant data access, the AMiS-60 medical cart and POC-W212 point-of-care terminal were integrated with St. Petersburg Hospital's existing information systems as well as other medical treatment devices. Hospital staff can use the workstations to retrieve patients' medical records, X-ray results, and pathology reports remotely, enabling faster and more efficient decision making.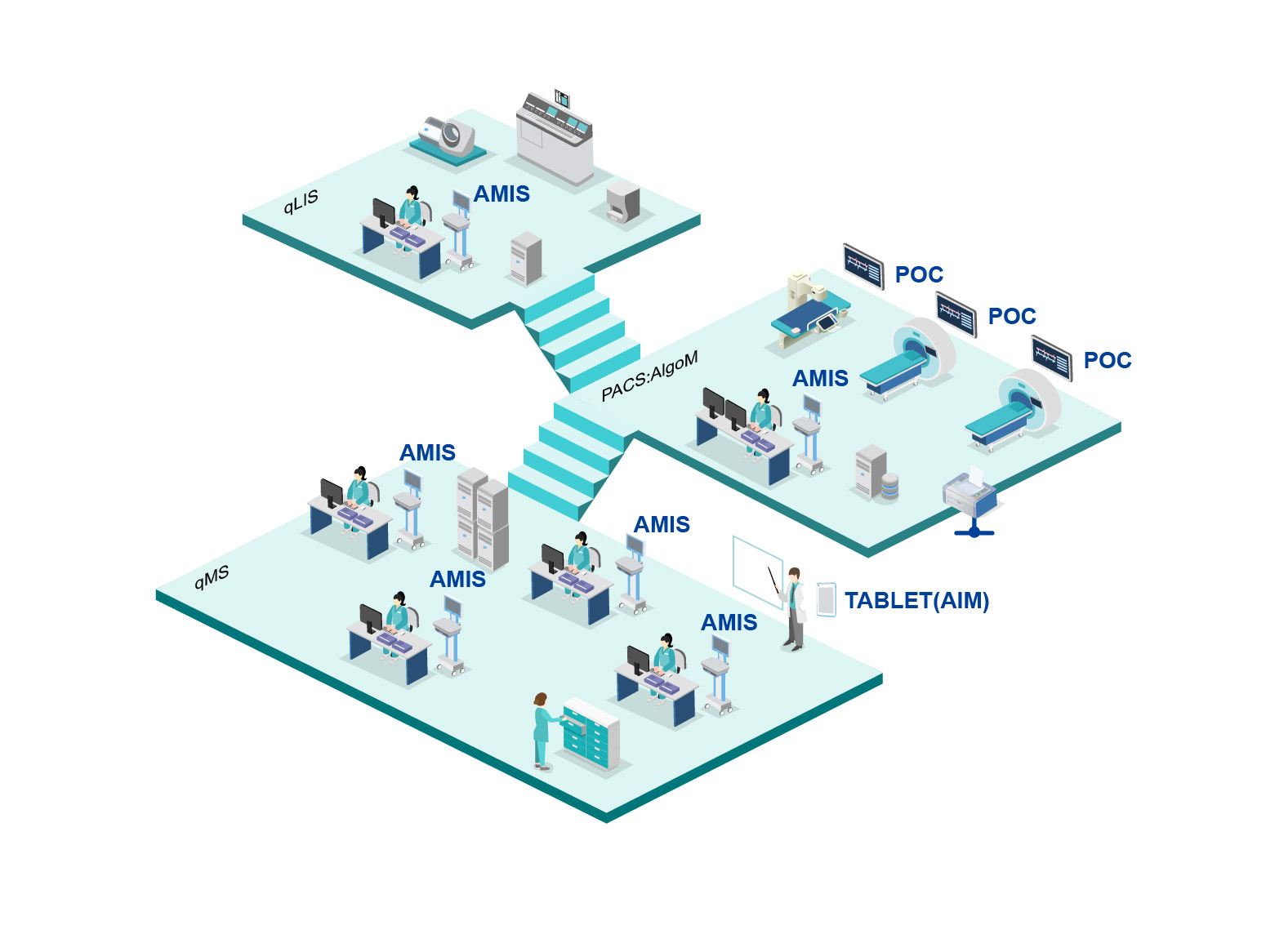 The medical workstation solution developed collaboratively by Advantech and St. Petersburg hospital enhances the quality of medical care by providing a fully integrated OR workstation that optimizes workflows and streamlines data access. Additional benefits provided by the solution are as follows:
The solution is specifically designed for ease implementation in healthcare environments.
The even weight distribution, large casters, and arched handles make the AMiS-60 medical cart easy to steer and push on a variety of surfaces.
The POC-W212 terminal's lightweight lithium iron phosphate battery supports up to 30 minutes operation for standalone usage applications.
Embedded Wi-Fi capabilities ensure constant connectivity for reliable data access.
The EN60601-1 and UL60601-1-certified cordless and fanless system design prevents the accumulation of dust for superior infection control.
The POC-W212 terminal features built-in expansion ports for integrating additional peripherals according to specific applications.
The POC-W151 DICOM converter supports digital and analog video output and can be used to convert standard images and video into DICOM format.
Advantech Digital Healthcare Division
Founded in 1983, Advantech is a leading provider of innovative products, services, and solutions. Regarding digital healthcare, Advantech offers a range of devices specifically designed for hospital environments and certified to IEC60601-1, EN60601-1, and UL60601-1 safety standards. Emphasizing digitally integrated rooms, quality nursing care, and intelligent outpatient services, our medical solutions feature high-performing technology of the utmost quality to ensure uninterrupted reliable operation. With many years of trusted experience, Advantech continues to collaborate with international partners to assist hospitals with establishing patient-centered healthcare environments and adopting universal digital healthcare platforms.